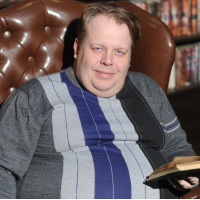 Andrey Vasilyev
Fantasy
Country

Russian Federation
At times, I feel I was meant to be an innkeeper someplace on the outskirts of Bree in J. R. R. Tolkien's Middle-earth. However, in real life, I am a much-celebrated Moscow-based author, as well as one of the originators of the relatively new, yet insanely popular, LitRPG genre that blends cyberpunk, classic sci-fi, and fantasy.

I started writing in my late 30's and only "because there was nothing handy to read," but after my first two books gained nearly instant acclaim, I had to give serious thought to changing my current banking career to that of a professional writer. Fortunately for my readers, who had voted his debut novel More Than a Game (link) the "Best Book of the Year 2014," I never looked back after that.

Over the next few years, I continued work on the now-bestselling Fayroll series, maintained a blog, and participated in various multiple-author projects. I am also the author of The Raven's Flock and The Arch series, which will soon be available in English.
"I'd give you some pants, but I don't wear any," a mage standing by a bookshelf remarked sympathetically.
Andrey Vasilyev